| | | |
| --- | --- | --- |
| | | AC Delco Signs Naming Rights Partnership with Sydney Dragway |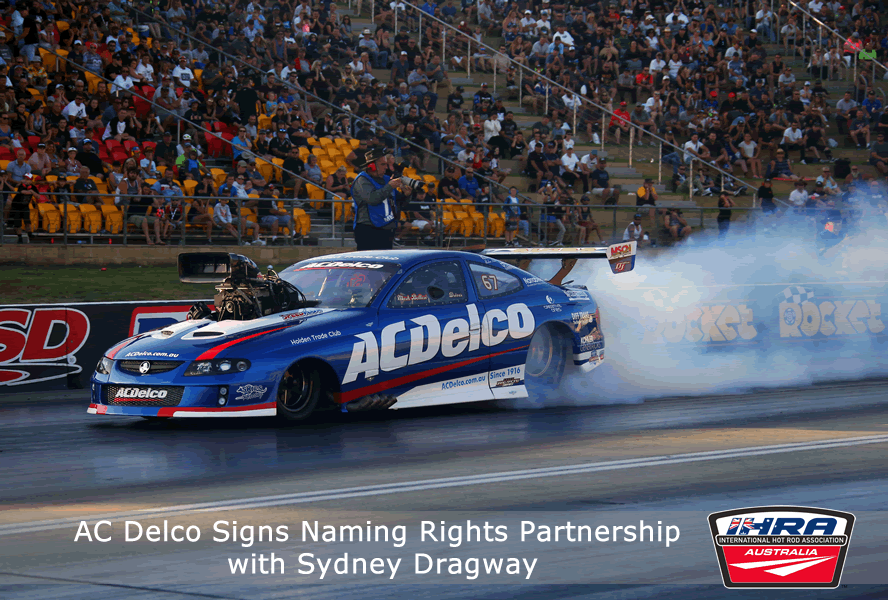 Monday 9th October 2017
AC Delco Signs Naming Rights Partnership with Sydney Dragway
Aftermarket automotive industry leader ADDelco has today announced an agreement to secure the naming rights to the East Coast Thunder to be held at Sydney Dragway in November.
The single year agreement demonstrates a significant and increasing commitment to drag racing, after last season partnership with Fabietti Racing and their driver Mark Belleri to win last season's 400 Pro Slammer title.
After the success enjoyed

by ACDelco in the first year of their partnership with Fabietti Racing, taking on the naming rights to one of the most prestigious events on the Australian Drag racing calendar was a natural progression.
Paul Rietveld from ACDelco was enthusiastic about the new partnership, saying today "the iconic ACDelco brand has built a solid reputation over the last 100 years through its competitively priced quality products, largely amongst trade customers. Partnering with Sydney Dragway provides ACDelco with a great opportunity to grow its brand awareness with the enthusiastic race fans through our support of such an iconic event".
Sydney Dragway General Manager Peter Beaumont was glowing in his praise of ACDelco "to be able to partner such an iconic event as the East Coast Thunder with an industry leading brand like ACDelco is truly a pleasure. The range and quality of the products offered by ACDelco is rivaled only by the quality of the racing that we are expecting to see at the ACDelco East Coast Thunder!".
The ACDelco East Coast Thunder is the second round of the 2017/18 400 Thunder Professional Drag Racing Series, and will be the first opportunity fans have to see Top Fuel on the ease coast this season. It is also the first time this season that all 400 Thunder Professional and Sportsman series categories will be at attendance at a single event this season.
About ACDelco
ACDelco provides a wide range of quality products for the automotive replacement parts industry consisting of maintenance parts such as car batteries, spark plugs, oil filters, air filters, wiper blades and brakes. As a global leader, their focus has always been on blading a reputation for the number one source for quality auto parts to suit most makes and models.
About Sydney Dragway
Opened in 2004, Sydney Dragway is a multi-million dollar purpose built facility designed specifically to handle large scale outdoor events in addition to its core focus, developing and hosting world class drag racing events. Located just 32 kilometres from the Sydney CBD and with 1.07 million people living within a 30 kilometre radius, Sydney Dragway truly is where excitement lives in NSW.
For more information on 400 Thunder visit

www.400thunder.com.au
For more information on ACDelco visit

www.ACDelco.com.au
For more information on Sydney Dragway visit

www.sydneydragway.com.au
For media enquiries please contact Sydney Dragway Partnerships and Media Manager Rusty Gregory on 0438706727 or
rusty@sydneydragway.com.au