Champions Reign Supreme after Qualifying
for AC Delco East Coast Thunder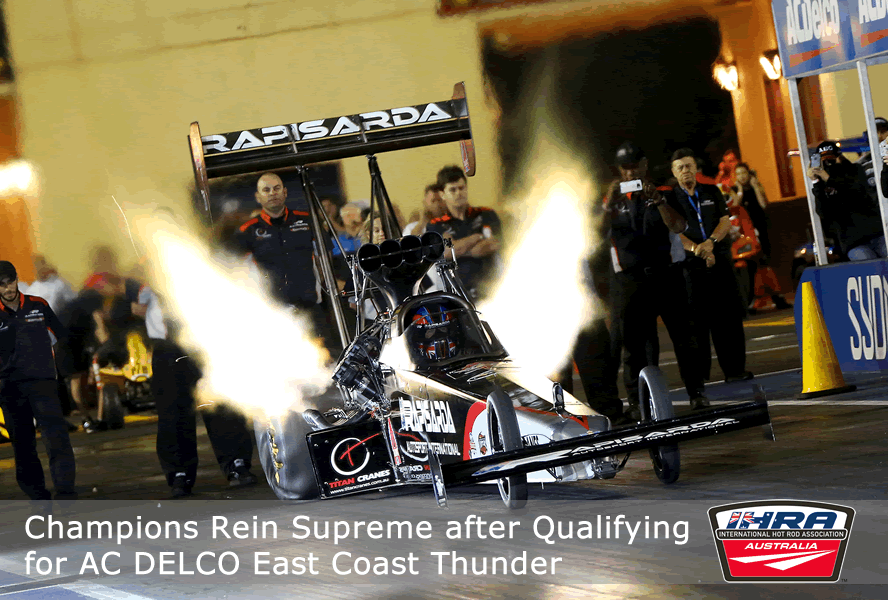 Current 400 Thunder Series Champions Wayne Newby, Chris Matheson and Aaron Tremayne will lead their respective classes into elimination after qualifying was abbreviated by rain with only the final session of Top Fuel left to run.
Wayne Newby will lead into the 100ft era, qualifying #1 with a 3.918 second pass, slightly in front of his teammate Damien Harris 3.939. Peter Xiberras site #3 with a 3.944 and currently hold top speed of the event with a 503.37 kmh blast.
With Darren Morgan having already been shut down due to a brief rain interruption and electing to skip the second session, history repeated itself as the multi-time Australian Champ was unable to fire due to a weather interruption whilst he was in the starters box. He eventually finished 4th in the qualifying order.
For the first time, Top Fuel had 3 women competing at the upper echelon of Drag Racing with Kelly Bettes #5. Rachelle Splatt making the best showing of her comeback in #6 and US visitor Ashley Sanford in 7th
Brothers-in-law Phil Read and Terry Sainty were battling it out for the final position on the order. Sainty was robbed of the chance of a fairytale debut of their new car due to the rain after the passing of his father only two weeks before the event.
Top Bike saw reigning champion Chris Matheson lead the way with an early shut off 6.31. Pro Stock saw the current National #1 Aaron Tremayne race to a 7.001 to take pole position for face day.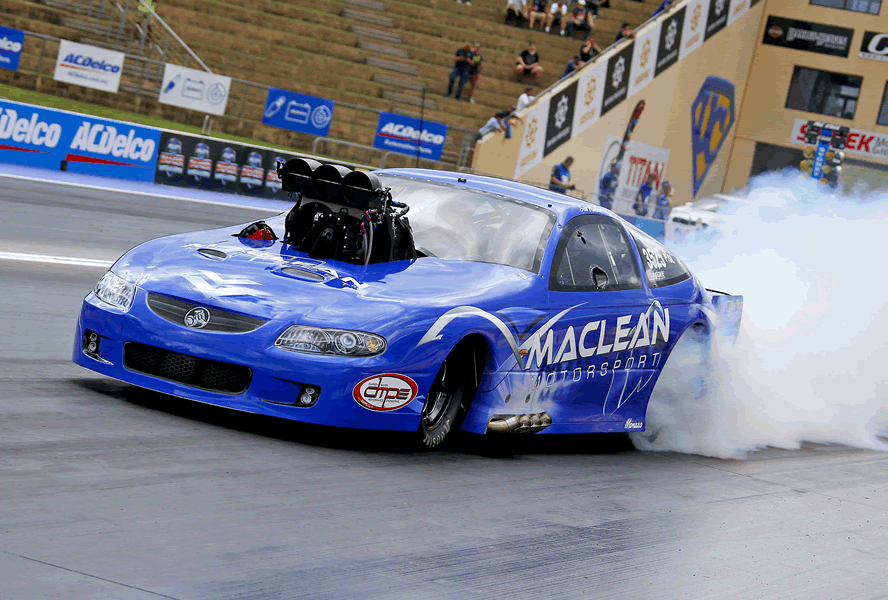 Pro Slammer was at it's drama filled best, with Scott Maclean taking a maiden #1 qualifying spot for the racer from the NT. Former Champ John Zappia was second with championship favourite Paul Mouhayet slotting into the #3 position. American Frankie Taylor was in good form taking the final spot in the top half of the field and he will race Michelle Davies in round one.
Davies was not without problems after tagging the wall in the final qualifying session but intion reports were that is was superficial damage and would be repaired for the first round of racing on Saturday.
Cory Buttigeig sits atop Pro Bike with a near-national-record 7.08, but reigning champion Brad Lemberg is breathing down his neck with a 7.14.
Pro Alcohol stalwart Steve Reed will lead the field into battle after a stellar 5.48 paced the rest of the field by over a tenth of a second. Sydney local Russell Mills sits second with a 5.59, and Victorian Rob Ambruosi locked in a last gap 5.72 to snatch third in the list.