| | | |
| --- | --- | --- |
| | | Paul Mouhayet's 68 Mustang Measures Up |
05/07/2017
Only hours after Paul Mouhayet's brand new 68 Mustang Pro Slammer was delivered from the United States, IHRA Australia were on hand to see it the Mustang would measure up.
With all the necessary preliminary paperwork completed, it was time to put the measuring tools over the vehicle. Tim Nielsen from IHRA Australia was on hand to measure up the body as well as giving the vehicle its final Technical Inspection and certification before it hits the track.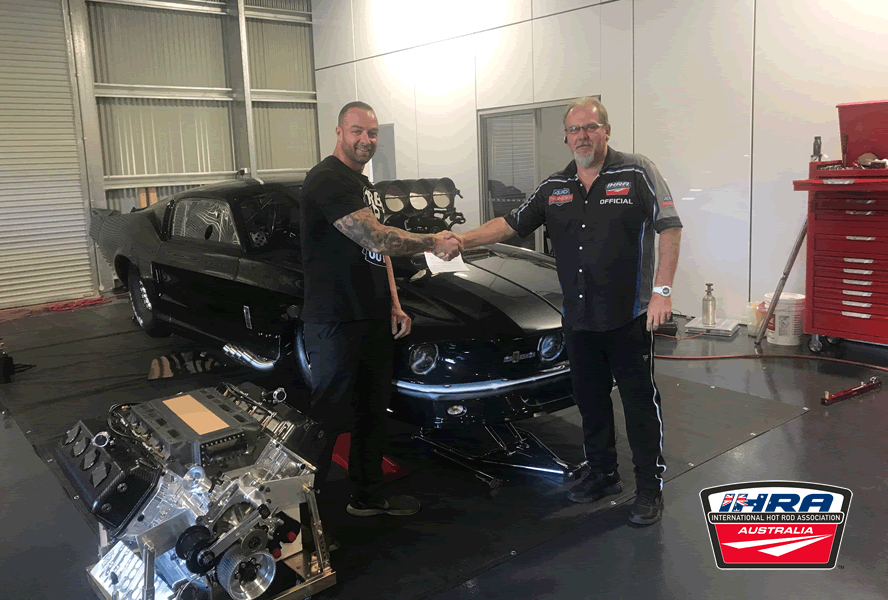 Tim said he has never seen a group of people so excited about this new machine, Paul was buzzing as soon as I walked in. With all the paperwork completed and the 68 Mustang being Approved, Paul and crew decided NOW was a good time to start this beast up. Its all brand new everything, I mean everything. Convincing a group of Turbo driven people that this would be good was an understatement.
Following on from the 2017 50th Winternationals, which saw the larges fiels of Pro Slammers assembled in a long time, Paul and his team are looking forward to being a serious threat in the IHRA 400 Thunder Pro Slammer Championship Series in season 2017 - 2018.
IHRA Australia wish Paul and his team all the success on their new journey.
Please follow their journey at www.400thunder.com.au